Trenchless Innovations recently performed a sewer repair in Orland Park, Illinois, after we received an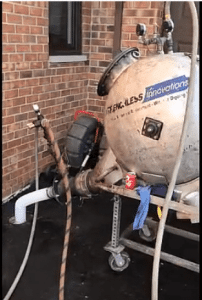 urgent call from a property manager because the sewer was repeatedly backing up into the first floor apartment of their rental unit.
In order to get a closer look and to find out exactly what was happening in the sewer line, our team recommended that the sewer line be televised.  Using a small camera sent down the entire length of the sewer line, we pinpointed and recorded all cracks, breaks and issues with the line.
Our televising revealed an offset and a hole in an area of the cast iron pipe that created a break in the line that was causing the repeated backups.  Our team quickly developed a plan for repairing the sewer and shared our recommendations with the property manager.
On the day of the repair, using our innovative, no dig technology, we repaired the broken area of the sewer by lining it with our flexible rubberized liner.  Our repair process created brand new pipe in place of the old offset and broken one.  Once the repair was completed, we cured the liner with steam to ensure adhesion. When finished, our sewer lining process ensured a smooth flowing sewer for the property manager and eliminated the recurrent sewer backups their renter was experiencing.
Here at Trenchless Innovations, we specialize in providing no-dig sewer lining that solves your sewer problems, along with top-notch customer service. Our professional and knowledgeable team can quickly diagnose your sewer problem and provide you a comprehensive list of recommendations to correct it.
If you're experiencing recurrent sewer issues or a broken or offset sewer line, give us a call today! Let our experienced and knowledgeable team correct your sewer issues for good!
(708) 758-5070